This post originally appeared on the Forsaken Isles and Doomed Run Kickstarter page and is reposted here so that fans can keep up to date with Rock Manor Games projects. Late Pledges are still available for this project!
We're back and recovered from Gencon. I actually spent a lot of time in the hotel room going back and forth with the factory on digital samples and file prepping. It was a good show though and we're already planning on some special player events for GenCon next year, so if you plan to attend keep an eye out for Rock Manor events in the future.
Game Progress
We don't have much to report this month, but things are moving along. We've been back and forth with the factory on all the files and have caught everything we can without seeing something physical in front of us. We just approved the digital files this week, so we should get preproduction samples by the end of August. Look for a more exciting update next month!
Estimated (Rough) Timeline
Our estimated timeline hasn't changed since last month. We're moving ahead and are on schedule. As always, please understand that delays happen and this is just a rough estimate. Late Pledges will be open through Preproduction. Changes of Address will be allowed up until Ocean Freight. Exact cut off and lock dates will be announced in a future update.
July – August 2023: Preproduction with Factory
September – October 2023: Production Window
November – December 2023: Freight Window
January – February 2024: Fulfillment Window
Merchants of Magick: Dangerous Business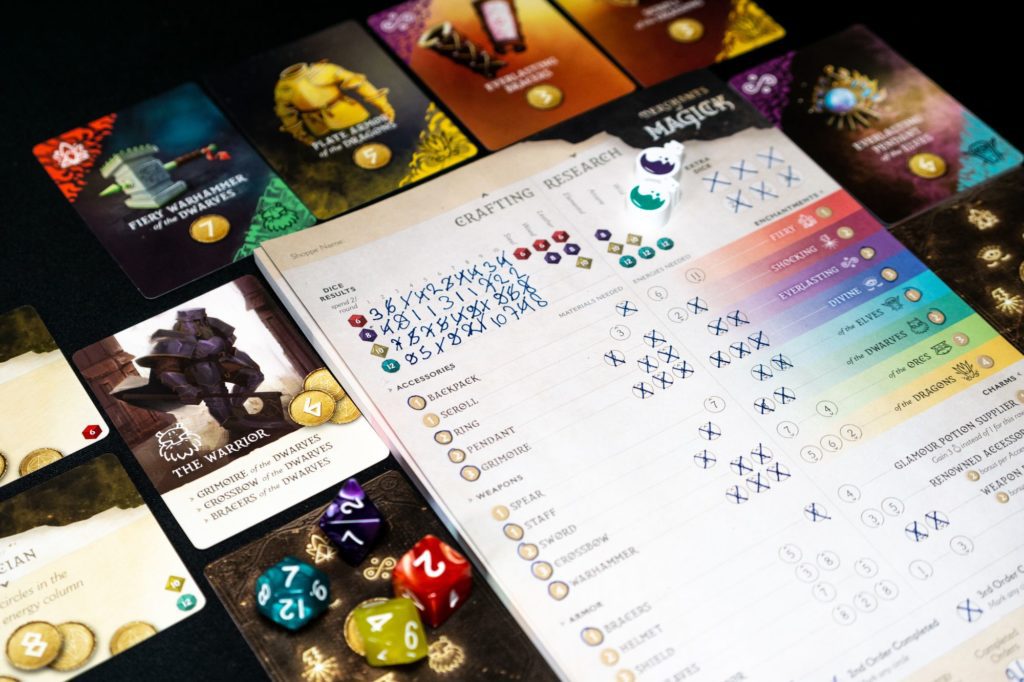 Our next Kickstarter for Merchants of Magick: Dangerous Business will be launching October 2023, so be sure to sign-up if you're interested.  Merchants of Magick is a crunchy roll and write game where you take on the role of a magical merchant vying to earn the most coin by crafting items and researching spells to create magically enchanted items and sell them to the mighty Adventurers defending the realm.
Dangerous Business adds variety to the game through several modular expansions. Monsters are at the gates and each Merchant is hoping that they can equip their sponsored Adventurer with enough items and equipment to fend off the Horde of creatures. Dangerous Business replaces sponsored Adventurer cards with new Adventurer boards. As you craft new items, your Adventurer's prowess in battle will increase. Once it exceeds a monster's health, you can defeat the creatures to set up powerful combos.
Dangerous Business also adds a new phase to the game where players pick an action: Brewing more potions, advertising to a central pool of customers, stealing them from your opponents, or grabbing potion recipes that provide new powerful abilities.