Now that I am nearing the completion and fulfillment of my first Kickstarter campaign, I thought it would be nice to share a few mistakes I made along the way.  This isn't meant to be overly negative–I'm thrilled that players will be getting their copies of Brass Empire this summer and very thankful for everyone's support along the way.  This is simply a post-mortem on the campaign as a whole and what I learned from it in the hopes that other game designers can learn from it and avoid my mistakes in the future.
Mistake #3: Launching on Kickstarter too soon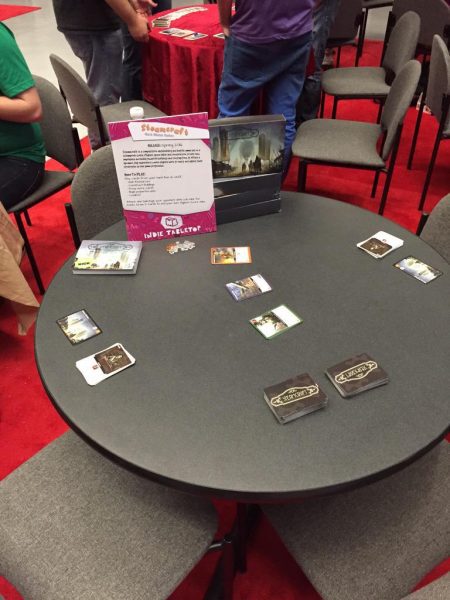 I first started publicly showing Brass Empire (then called Steamcraft) at PAX Prime in August of 2015.  This was a fantastic experience that allowed me to put the final touches on it and balance the game.  The feedback was great and I know that many of my initial backers came directly from this conference.  I started a newsletter after this event and collected a little over 100 emails.  I launched my Kickstarter a little over a month later and coordinated with some ads on Board Game Geek, but the reality is that I would have been much better off spending a year making the rounds to all the tabletop conventions.  I should have kept demoing the game and growing my newsletter list and getting more people excited about the game.  I guess you're never really done with marketing – especially when you're a little guy like me – but I think it would've made the Kickstarter launch stronger if I had shown some patience.  Then again it's awesome to see preorders (closing July 5th!) come in after every event/convention.  It will also be really cool to actually have the finished game in hand for GenCon this year.
Mistake #2: Making a $20 version of Brass Empire
Kickstarter's own guide says that you should have a pledge around $20.  I fell for that recommendation.  I trimmed down Brass Empire to a 3 faction version (the very 2 player version that I tested at PAX Prime 2015) and offered up this version of the game to backers at $20 with free US shipping.  This was definitely a mistake.  Before launching the Kickstarter, it seemed like a good idea since the manufacturing quotes I had gotten on this version were potentially very low (with a 1K MOQ) so it seemed like there was plenty of margin.  The problem was that the full version with all 5 factions was much more popular (over 80% of backers choose the $40+ pledge level).  This left me with about 100 copies of the travel version to produce – not really hitting that Minimum Order Quantity.  Ultimately, I opted to print this small number at the Game Crafter for about what I charged my backers.  I probably lost a bit on this tier with shipping.  I would have probably been better off actually giving these backers the full big box version from China which was actually cheaper per unit to manufacture.
This was definitely a rookie mistake.  I should have just pushed everyone to the one superior and complete version of the game.  All in all, this mistake only cost me a bit of money and some extra work making a sweet box for the travel version so no big deal.  Rest assured that future Kickstarters will be much more focused with less reward tiers.
Mistake #1:  Not Cancelling
Some of you may have read my blog post about the whole IP debacle (How to Deal with a Kickstarter IP dispute) – in a lot of ways it was for the best and has yielded a much better game name (IMO), but from a financial perspective it was probably a mistake not to cancel and relaunch.  Obviously when the project was first suspended by Kickstarter and every backer was notified, I got a large number of cancellations.  The project was really gaining steam right before the suspension brought everything to a screeching halt.  I still stand by my decision to continue for other reasons, but it was a big financial mistake.  I'm pretty confident that relaunching later would've yielded a larger grand total.  It would have given me more time to demo the game and get people excited and I could have contacted all of the backers from the canceled project when the new one launched.  Brass Empire's Kickstarter was never about making money though – it was about getting people to play the game.  Canceling would have meant putting off the Kickstarter another 3-6 months because it was already late 2015 and the end of the year is just a terrible time to launch.  Delaying the game further and redoing a Kickstarter (which is a lot of work) wasn't worth it to me just to make more money.  Another big factor were all the backers that stuck with the project through it all.  It seemed unfair to rip a successfully funded project from backers to pump up some funding figure.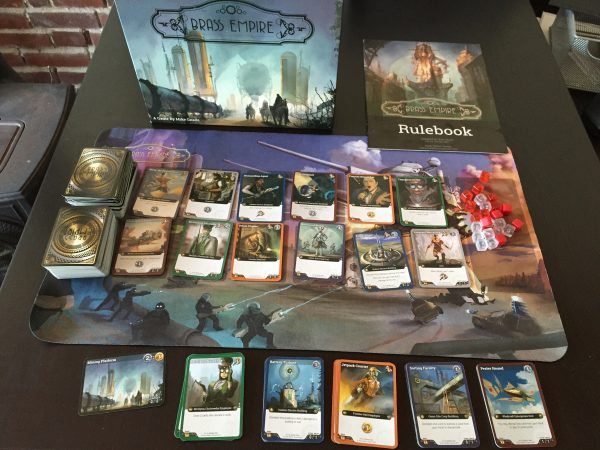 I've definitely learned from these mistakes, and think everything has worked out for the best.  Brass Empire is on a boat and should be arriving at our fulfillment center in the coming weeks.  That's about a 9 month turnaround time from campaign start to fulfillment (even with the suspension glitch).  My goal has always been to break even with the Kickstarter and reward backers with getting them a great game as fast as possible.  The Kickstarter funds just about covered all the manufacturing and printing..  Every copy we sell from this point forward will help fund the first expansion of the game, which is going to be epic (sign up for our newsletter to keep an eye on future announcements, blind playtesting, sneak peeks and more).
Hopefully this has been helpful to people planning a Kickstarter and interesting to others.  I'd love to hear your thoughts and questions in the comments!
4 Things I Plan on doing for my next Kickstarter
Live stream demos / play sessions during the campaign
Show my game publicly at more events and build buzz before the month or two before my Kickstarter
Simplify my Reward Tiers
Use a US based and European based Fulfillment Center