This post originally appeared on the Few and Cursed Roleplaying Game Kickstarter page and is reposted here so that fans can keep up to date with Rock Manor Games projects.
All the original Maximum Apocalypse books have been reprinted and are back in stock at our USA warehouse! If you're interested in grabbing any of these early, check out our web store.
Game Progress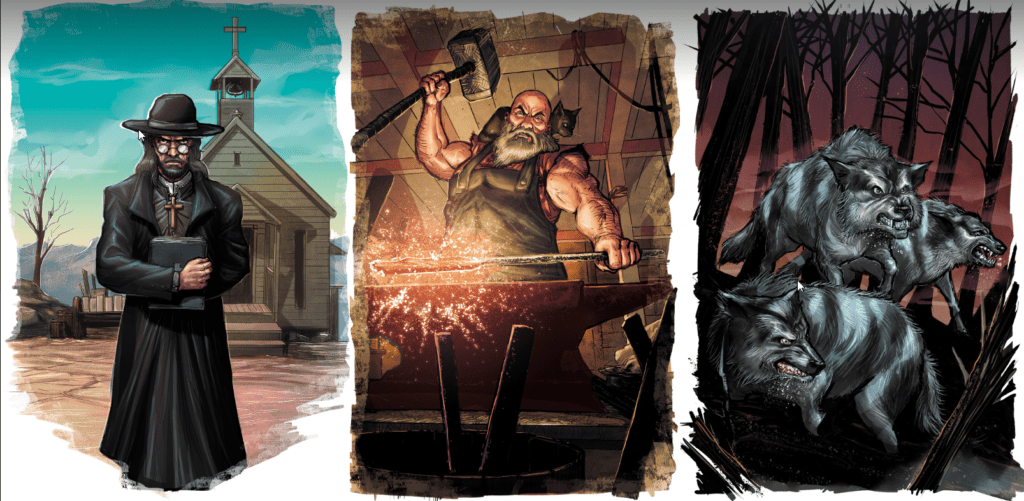 Felipe sent us some of the final colored pieces of artwork (see above) for the book this week and Scott wrapped up the manuscript early this month. That means, we're hard at work laying out the book and prepping the PDFs for print and DrivethruRPG. I believe that we can get a rough draft finished by next month to send to Felipe's team for final approval and adjustments. Great thing about digital is we will likely provide you with the first drafts of the PDFs shortly after that gathering any final feedback you have before sending the book off to print. Printing will take place in the USA and should take approximately 30-45 days, truck freight is about a week, and then after a week or so of prep Fulfillment could potentially start. Keep in mind we will have to air freight the UK/EU books so they'll be a bit behind. I'm not quite ready to post up a estimated timeline, but look for that next month.
Set a Watch: Forsaken Isles & Doomed Run
Do we have any D&D fans here? If so, you might be interested in our current Kickstarter for a great solo/cooperative game inspired by the classic fantasy tropes of Dungeons & Dragons. It's called Set a Watch: Forsaken Isles and it is the 3rd game in the series. If you're interested, we'd love your support as there is only a week left of the campaign.
Last but not least, a reminder to complete the pledge manager if you are expecting a physical reward!