This post originally appeared on the Lawyer Up: Season 2 Gamefound project page and is reposted here so that fans can keep up to date with Rock Manor Games projects.
Fulfillment is expected to start at the end of this month and extend into September.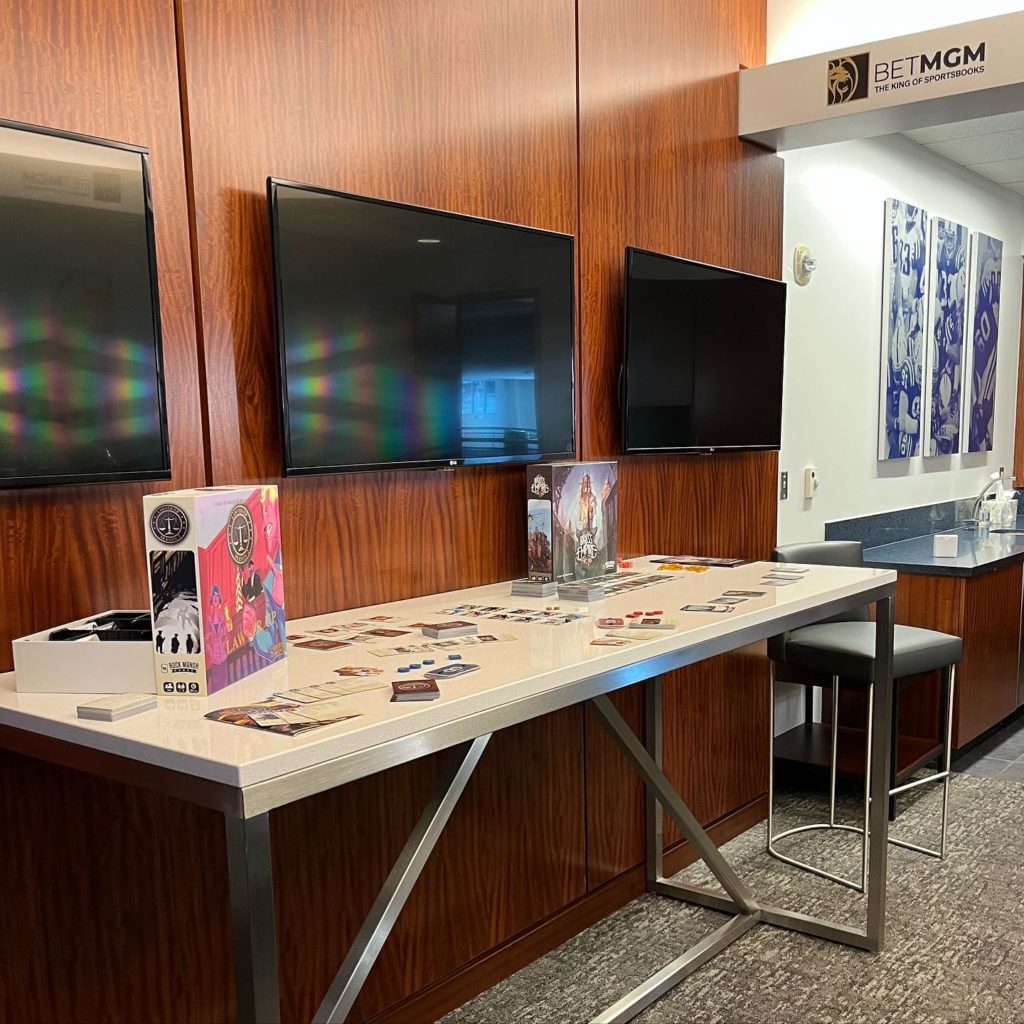 We're back from GenCon where we were able to show off Lawyer Up to tons of press in the MGM suite in Lucas Oil stadium. People were tickled that the Board Game collection was an asset that you can fight over in the divorce case. Lawyer Up Season 1 and 2 are both up for preorder now on our web store, so if you missed the campaign and are interested in snagging a copy, now is your chance!
We have a few updates on fulfillment progress. Expect another update in a few weeks confirming when HUBs have finished shipping out rewards.
Oceania
We have confirmed that VFI will start shipping out packages to Chinese backers starting next week. All the pallets have been shipped to Aetherworks for Australian and New Zealand backers. We expect them to start later this month.
UK/EU/Europe
The APL LION CITY, is still estimated to arrive on August 22, 2023. We expect them to arrive at GamesQuest's warehouse as early as August 24th. From there, they will enter GQ's queue. That queue can vary greatly, but hopefully they finish all of their admin checks in less than 2 weeks. GQ has a monthly blog where they update backers on their project queue: https://www.gamesquest.co.uk/blogs/gamesquest-blog/uk-row-fulfilment-update-15th-august
North America
For North America, the HYUNDAI HONGKONG finished unloading everything on August 5th, 2023. I am still waiting on Miniature Market's confirmation that everything has arrived at their facility, but it should be any day now. Once everything has been received, we anticipate fulfillment starting in just a few weeks.
ROW
A reminder that Rest of World shipments will dispatch from the shipping hub that makes the most sense based on your location (i.e. South America shipments will come from the USA hub, but Middle Eastern shipments may come from the UK hub).
Address Changes / Didn't finish the Pledge Manager?
We are not taking any address changes at this time. We will be back to confirm when fulfillment is finished up in each region. If at that point you haven't received a tracking email or your package was shipped to the wrong place, you will be able to open a support ticket and we will make sure to get your rewards to you.
If you're a straggler who missed out on the pledge manager, please let us know and we can transfer your credit over to the web store so that you can finalize your rewards and pay for shipping.
Thanks so much for your support!