This post originally appeared on the Wasted Wilds Kickstarter project and is reposted here so that fans can keep up to date with Rock Manor Games projects.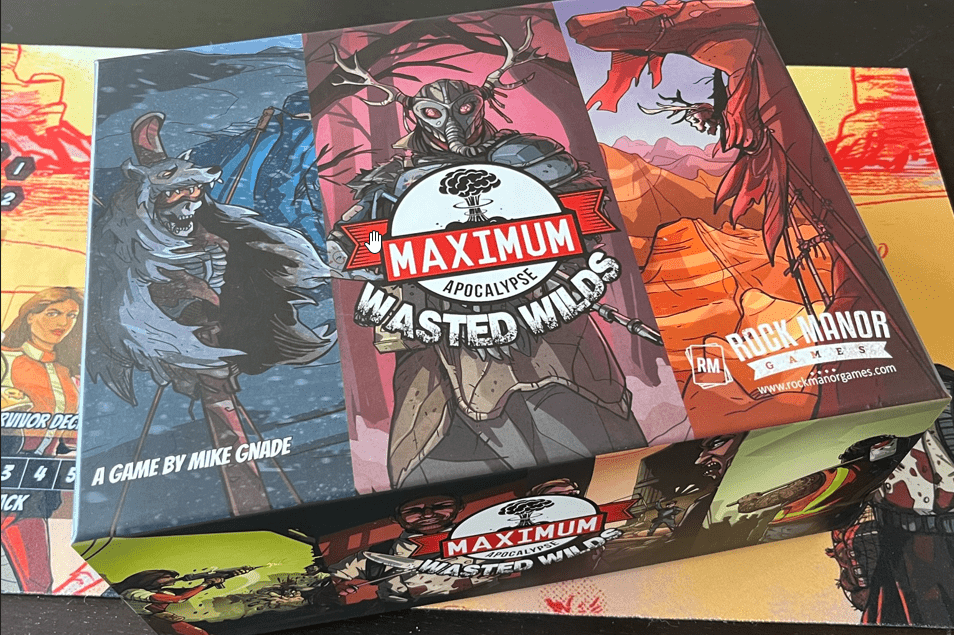 This week, right off of Gencon, I received the new PPC for Wasted Wilds, the artbook and all the final outstanding components that need approval before we go to production. The sample is near perfect and I'm happy to report that I have approved everything (with a few comments) and now we just have to wait our turn in line at the factory.
In the video below, I unbox the new sample and also walk everyone through the best way to organize your box once you receive it.
Game Progress
I will keep on the factory and fulfillment companies and keep you updated as I hear back on specific dates and deadlines, but in the meantime I plan on continuing to work on the Character sheets/campaign/XP mechanics (https://rockmanorgames.com/wasted-wilds-legacy-campaign/) and filming how to play videos, playthroughs etc. Feel free to pop into Discord and give us feedback on what you're interested in seeing from the game while you wait.
Estimated Timeline
Factories are working through backlogs and you should still expect delays, but each month this timeline becomes a bit more accurate as we reach certain milestones:
August 2022: Final Approvals. Production Begins
August – October 2022: Production Completes
October – November 2022: Freight
December 2022 – January 2023: Fulfillment
In Other News…
As always, we have other games and things in the works. First up, the Lawyer Up: Season 2 pledge manager launched recently. It features Season 1 and Season 2 of the game. Both boxes are standalone and feature multiple courtroom cases/expansions: https://gamefound.com/projects/mike/lawyer-up-season-2
Seas of Havoc is also available as a late pledge and should be going to the printer shortly after Wasted Wilds. It's a competitive deckbuilder and worker placement game with tactical ship combat set in the age of sail. Who doesn't love pirates? Late pledge closes in the Fall: https://gamefound.com/projects/mike/seas-of-havoc
A RPG supplement/expansion to our Maximum Apocalypse RPG system based on the Few and Cursed indie comic series is coming to Kickstarter in October.  Make sure you're signed up to our newsletter for more information: http://eepurl.com/bw_PLb
Last but not least, we've announced the next game in the Set a Watch series: Forsaken Isles (video above).  It's a cooperative game like Maximum for 1-4 players that will come to Kickstarter in 2023.  If you're interested, sign-up to be notified here: https://www.backerkit.com/call_to_action/e37ef671-3d0b-4932-b7a7-2fc15ac457d5/landing