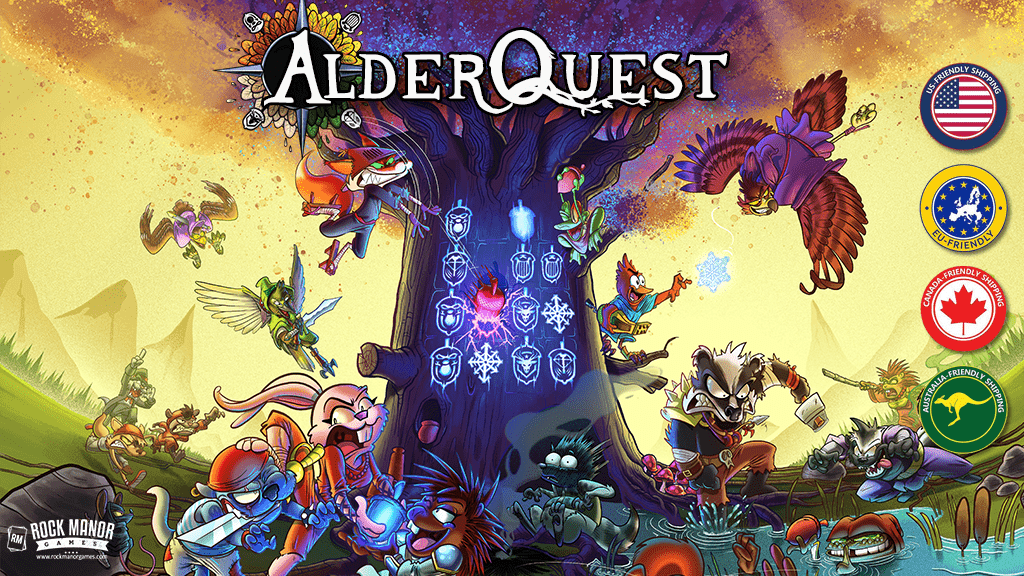 AlderQuest is currently LIVE on Kickstarter now through December 13th. AlderQuest is a 1-4 player game where guilds of animal heroes and minions will square off in a competition that blends area control, tile placement, hidden information, bluffing, and traditional match-3. The team that gathers the most acorns before the start of winter is the contest's victor. 
The High councils of Aleron have initiated a four-seasons tournament with an urgent summons to the many houses of the realm. Guilds local to the Great Tree Aiyana have convened at her watershed to take part in the first contest, as autumn slowly expires.
End of Year News
PAX UnPlugged is only a few weeks away and will be our last convention of this year.  If you'll be attending, be sure to stop by and say hello at Booth 3548.  We will have AlderQuest, Lawyer Up and Set a Watch in our booth ready to play.  You can even request a test drive with one of the new Adventurers coming to Set a Watch 2.
As you can see we have some big stuff planned for 2020.  Maximum Apocalypse Legendary and the Few and Cursed should both come out next year (both can still be pre-ordered through the end of the year).  Lawyer Up will finally come to Kickstarter around Q3 2020. Sam and I have been working on that game for almost 4 years and after playing it extensively at Metatopia this month, I think it might just be our most innovative game (mechanically) yet!
If you don't mind seeing ugly prototypes, you may want to checkout our Instagram page. You can get early look at my cooperative Sci-Fi exploration game that I'm building from the ground up to be more solo friendly/focused than Maximum Apocalypse. Todd and I are working to get together more often to brainstorm new games and also playtest everything we have in the pipeline, so you will continue to be able to get early looks at the things we're working on there.
Thanks so much for your support. Happy holidays!