So I haven't been blogging as much as I would have hoped, but I did have a baby in November so that's sidetracked me a bit. I'm also basically waiting on artwork to get sort of a complete set of cards to fine tune over the next few months.  Artwork and Revisions take a long time! But I'm long overdue for an update and happy to report that we have another set of cards complete and another nearly complete.  First up, we have a sample of the McGlynn Clockwerks faction (and a few neutral cards):

Here's some lore on this set.
The McGlynn clan has long served the aristocracy and royalty of Cobalt and continue to serve as policemen today. When Brass was discovered, the family was recognized for its long service and given an earldom.  It used this surge in wealth to unionize the workforce and start a small watch company.  That watch company has grown into one of the largest research and staffing firms in the world.  McGlynn Clockwerks may be known for its ornate watches and timepieces, but its strength is its people and insight.
McGlynn continues to win lucrative government contracts. They have practically privatized the police force and profited off of the power that comes with enforcing the law.  Inspector Harlowe may appear to be a good chap, but it's rumored that his thirst for knowledge has led to the development of a brutal automated weapon. People whisper that employees from McGlynn's staffing companies remain loyal and continue to feed the mysterious McGlynn Tower research facility with information even as another company pays their salary.  It is said that all knowledge flows through Earl Hildebrand at the Tower.  We all know that knowledge is power.
We are currently finishing up on the next set.  It is inspired by Asian culture in our steampunk world: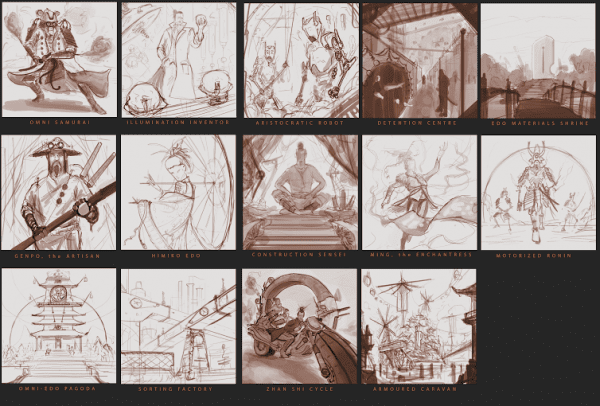 I'm getting really excited to finish up the artwork and get an real complete demo print of the game.  More to come!